One can see from the typical grill pattern how much air is being blocked:
Fender has been using the above style on their "Rumble" bass amps,
and it looks stylish with careful folding, but it blocks a lot of air....
Something like this below would be better, blocking less air:
But my concern here is still that wind-noise might be generated by the sharp corners and edges.
Something more promising is this:
This is actually offered as
speaker-grill material.
Product: Speaker Mesh
Model Number: TY15-18
Encouraging, but perhaps still not light enough in my mind.
Another popular style is as below:
This is a type of cut and stretched grill made of sheetmetal.
The protection is rather good, especially in smaller hole formats,
but the drawback is that this is like a very sharp cheese-grater!
You can really injure yourself on these, even when painted,
and I'm still dubious of the amount of air-blockage and wind-noise potential,
although the angled flat-spaces prevent direct reflections back into the speaker.
It has an ugly look, unless painted black and also the wood etc. see-through is also treated with black paint.
Using light-blocking cloth might be self-defeating in terms of trying to minimize wind-resistance.
I'm still thinking even more space, like this over-stretched pattern below:
expanded metal for bbq grill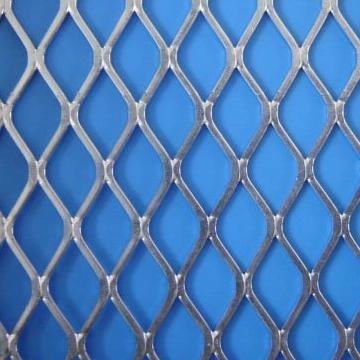 Quote:
Expanded Steel Grille - Black (1220mm x 914mm x 1mm)
Decorative Steel Expanded Metal Mesh. Black.


Expanded Metal Mesh:
1.specifications:
Material: Thickness: 0.3 to 9mm
Long way of pitch: 3 to 200mm
Short way of pitch: 3 to 80mm
2.Materials: steel plate, stainless steel plate, aluminum plate, titanium plate, lead plate, nickel plate, and more
.
3.Process: Punched into holes of diamond shape, square, round, triangle, scale hole.
4.General Use:Used in agriculture, industry, fencing, outdoor furniture, speaker grills, machine and window guards, shelving and racks, security walls, and more.With good strength, wear resistance and nice looking, expanded sheet metal mainly serves to construction of railway, roads, buildings; also protection of machines, electrical appliances, windows.
Expanded metal mesh :long way is 3-200mm ,short way is 3-80mm ,thickness is 0.3-9mm .

But the problem now would be how to buy in small quantities.
This kind of stuff is custom-made and ordered by the skid-full.